Dr. Enrique R. Ostrea was motivated to design a low-cost, affordable, reliable ventilator after his experience as a neonatologist in government hospitals:

"About fifteen years ago, I was asked to make rounds in a nursery of a government hospital in Tagbilaran, Bohol. In the course of my rounds, I noticed a twelve-year-old girl manually ventilating a premature infant with an inflatable bag.

I asked the neonatologist who accompanied me on rounds what the child was doing and she replied, 'Sir, that is our ventilator!'

I quickly asked, 'What if the child gets tired or falls asleep?'

She sadly replied, 'Then, the baby dies, Sir!'

Ever since that experience has never left my mind. I eventually found out that it was common practice in many neonatal intensive care units in the Philippines to manually ventilate an infant for lack of ventilators.

In once instance, I saw 4 intubated, premature infants connected through a common tubing and ventilated with one inflatable bag by one person. From that moment I was determined that this practice should end.

The ventilator is not a complicated machine and can be produced locally. It was the high cost of an imported, commercial ventilator that was the major deterrent for NICU in acquiring the sufficient number of ventilators they needed."

The principle of the ventilator is simple and the most sturdy and durable of the ventilators is the pressure limited, time-cycled ventilator since it has minimal moving parts that can be a constant source of problems and requires least maintenance. With the help of the engineers from the University of the Philippines College of Engineering and the Department of Science and Technology, we developed a pressure limited, time- cycled ventilator with the solenoid valve as the heart of the machine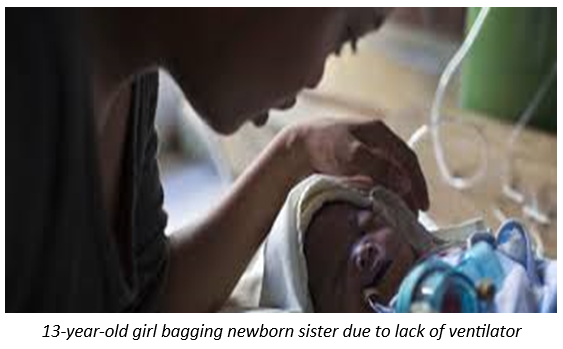 Animal and Clinical Studies on the OstreaVent
We conducted animal and clinical studies on the OstreaVent to determine its efficacy and safety when compared to a standard, commercial ventilator (Sechrist). We published in a major journal* that the OstreaVent was effective and safe as the Sechrist ventilator for the treatment of respiratory diseases in newborn infants.
*Ostrea EM, Villanueva–­‐-­‐Uy E., Animal and clinical trials on a prototype, pressure limited, time cycled Philippine ventilator. Acta Medica Phil 2010;44:4–­‐-­‐9.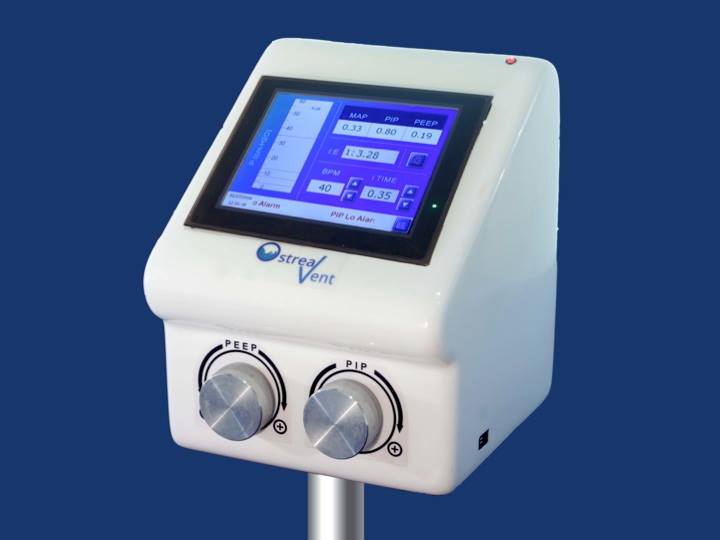 OstreaVent
The OstreaVent is a pressure limited, time-cycled ventilator that features a bar and waveform graphic display of the respiratory cycles and touch screen controls for the ventilator rate, alarms, and limits for high and low pressures and I:E ratio. Two knobs are used to vary the peak inspiratory and positive end-expiratory pressures. Data of the minute to minute performance of the OstreaVent are stored in its computer database and can be retrieved in Excel file and transmitted through the Internet for analysis of the ventilator's performance. This feature of the OstreaVent is unique and is not found in current, commercial ventilators.

The OstreaVent is protected by a patent granted by the Philippine Government Patent Office in 2012. (Application No. 2-2010-000173).

Cost: The current cost of the OstreaVent is PHP 400,000 (US $8,000) which is substantially 1/4 the cost of a regular, commercial ventilator for infants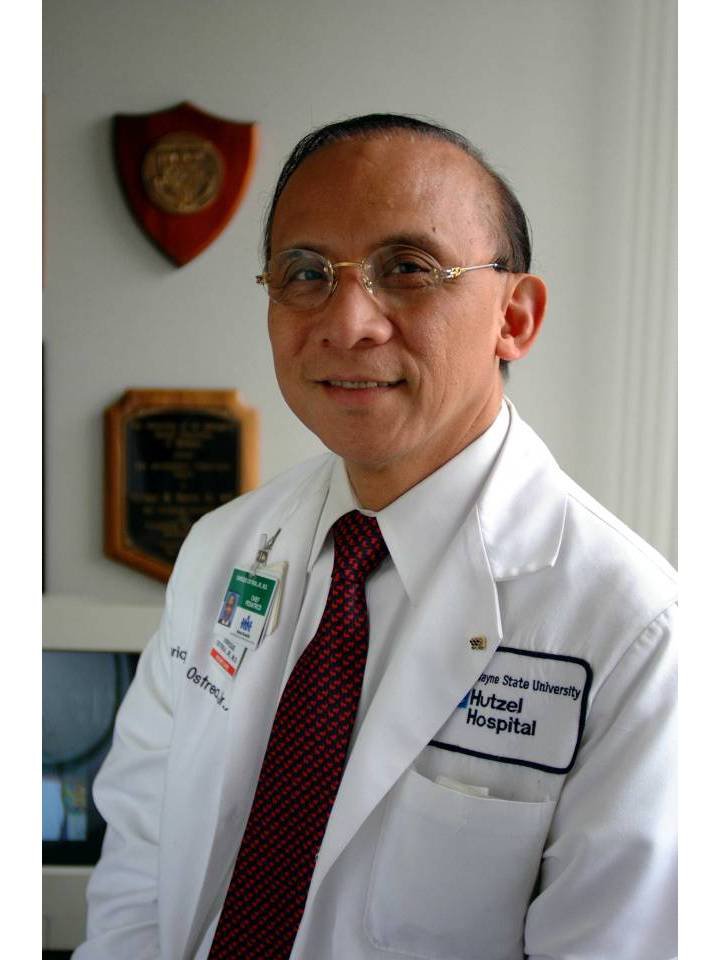 Enrique M. Ostrea, Jr., M.D., is a tenured Professor of Pediatrics at Wayne State University School of Medicine, Detroit, Michigan. He graduated from the University of the Philippines (UP) School of Medicine in 1965, cum laude and class valedictorian. Thereafter, he did his training in Pediatrics at the Philippine General Hospital and Children's Hospital Medical Center, Harvard Medical School in Boston, Massachusetts (1966-1968), and then a fellowship in Neonatology at the Johns Hopkins Hospital in Baltimore, Maryland (1969-1972). He was former Chief of Pediatrics and Director of University Nurseries at Hutzel Hospital, Detroit Medical Center, Wayne State University.

Dr. Ostrea is a reviewer for the Journal of Pediatrics, Pediatrics, Pediatric Research, Journal of Perinatology and Achieves of Pediatrics and Adolescent Medicine. Dr. Ostrea has been recognized nationally and internationally for his work on neonatal hyperbilirubinemia, neonatal drug addiction and pioneering work for the detection of fetal exposure to illicit drugs, licit drugs, tobacco smoke (nicotine), alcohol and environmental toxicants by analysis of meconium (first stools of the newborn infant). He is considered as the foremost expert in the field of meconium drug testing. Dr. Ostrea has authored 88 original peer-reviewed articles, 29 books, chapter or monographs and numerous abstracts, lectures and scientific presentations at national and international meetings. Dr. Ostrea has been elected a member of the National Academy of Science and Technology of the Philippines.

Among his distinct achievements, Dr. Ostrea is the inventor of the meconium drug test. This is one of the most sensitive tests to detect fetal exposure to illicit drugs by the analysis of meconium (first newborn stools). Dr. Ostrea was awarded 2 United States patents for his meconium drug test. Dr. Ostrea has also collaborated with the UP College of Engineering, the Philippine Department of Science and Technology and the UP College of Fine Arts in developing an infant ventilator (OstreaVent) to address the urgent need of ventilators for sick, newborn infants in the Philippines. Dr. Ostrea has been the recipient of numerous research grant awards including two multimillion dollar research grants from the United States National Institutes of Health (National Institute of Child Health and Human Development) and the United States Environmental Protection Agency to study fetal exposure to environmental toxins in the Philippines and infant/child outcome.

One of Dr. Ostrea's keen interest has been to utilize his expertise in promoting educational programs and training in developing countries, particularly in the Philippines. He has annually visited the Philippines, since 1976, as a lecturer, speaker, visiting professor and consultant in many universities, hospitals and medical centers in Metro Manila as well as in the provinces. He has helped fully trained 10 Filipino neonatologists, 6 of whom have returned to the Philippines to practice. He has also established during his chairmanship, an observership program that allowed 21 Filipino neonatologists to go to Wayne State University, Detroit to observe and be updated on recent trends in Neonatology. Many of these physicians are now fulltime, practicing neonatologists, consultants, and teachers in various medical centers and universities in the Philippines.