OstreaVent II Update – May 2020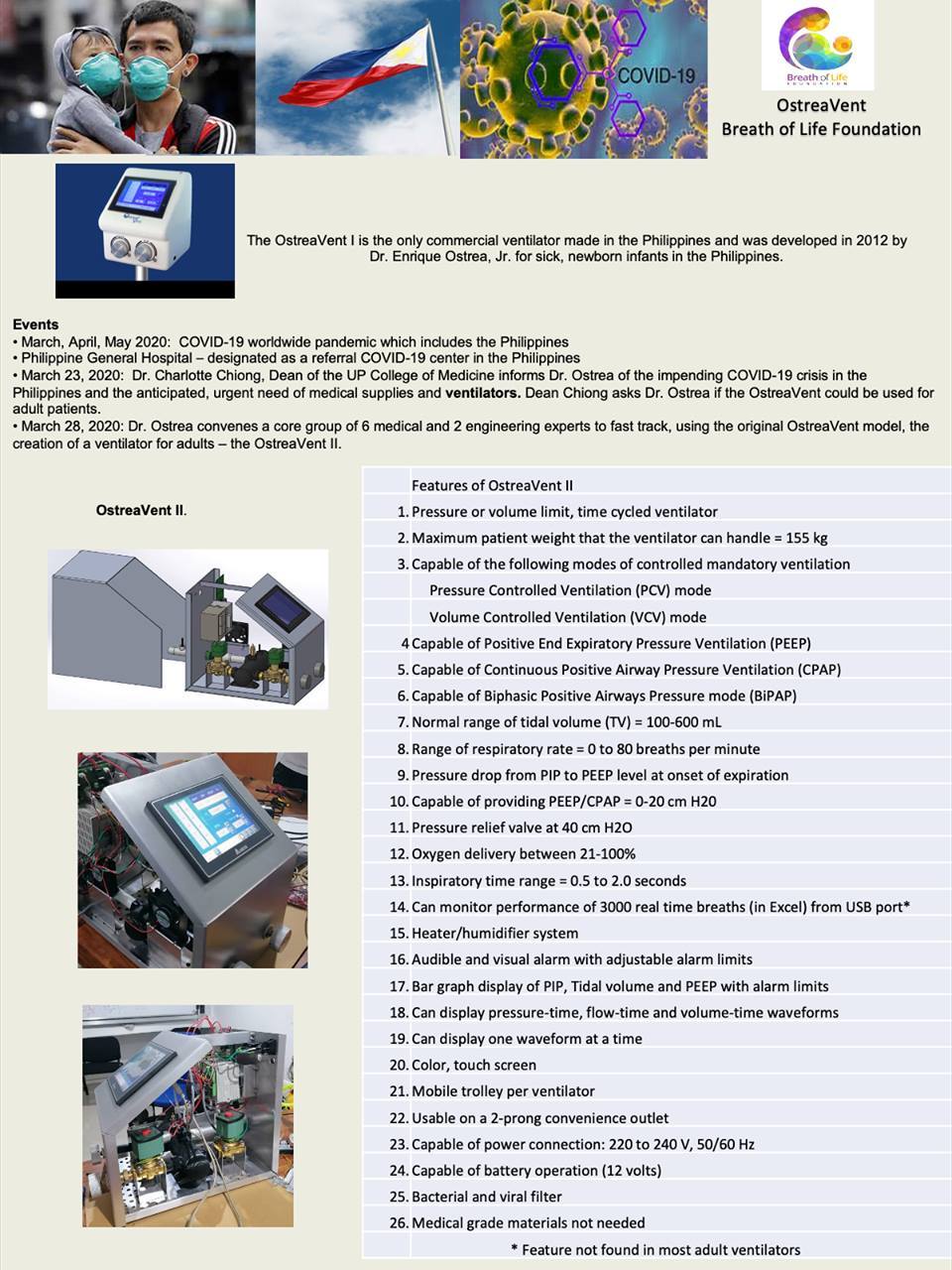 May 11, 2020 – Good news! For an update. I am happy to inform everyone, especially those who have generously given their time, financial support and prayers, that we are at the final stage (4th week) of Phase 1, which is the modification of the OstreaVent for adults ((OstreaVent II) and its clinical test on adult patients for efficacy and safety. The photo above shows the functional, state of the arts features of OstreaVent II. The next Phase will be the manufacture of the ventilator which will be a large scale production that will need your support, together with the Breath of Life Foundation, the UP College of Medicine, PGH and the Department of Science and Technology of the Philippines. Please continue to persevere, support and pray so that we can bring our mission to completion. Thanks to all.
June 2020
Dear Friends:

1. Dr. Enrique Ostrea Jr – Neonatologist, UPPGH, UPNIH and WayneState University, Detroit, Michigan, USA, inventor of the OstreaVent for infants
2. Dr. Esterlita Villlanueva-Uy – neonatologist, UPPGH, UPNIH and UP College of Medicine
3. Dr. Herbert Uy – pediatric intensivist, UPPGH and UP College of Medicine
4. Dr. Vincent Faustino – pediatric intensivist, Yale University Hospital and School of Medicine, New Haven, Connecticut, USA
5. Dr. Manuel Peter Paul Jorge – adult pulmonologist and former Chief of Medicine, UPPGH and UP College of Medicine
7. Dr. Kris Tan – adult pulmonologist, UPPGH and UP College of Medicine
8. Professor Robert Dizon – Electrical engineer, Director of Metals Industry Research and Development Center, DOST and Asst. Secretary, DOST. Prof. Dizon developed the electronic controller of the OstreaVent for infants.
9. Professor Alexander Paran, PhD. Mechanical engineers, former Professor, UP College of Mechanical Engineering. Dr. Paran was part of the engineering team that developed the OstreaVent for infants.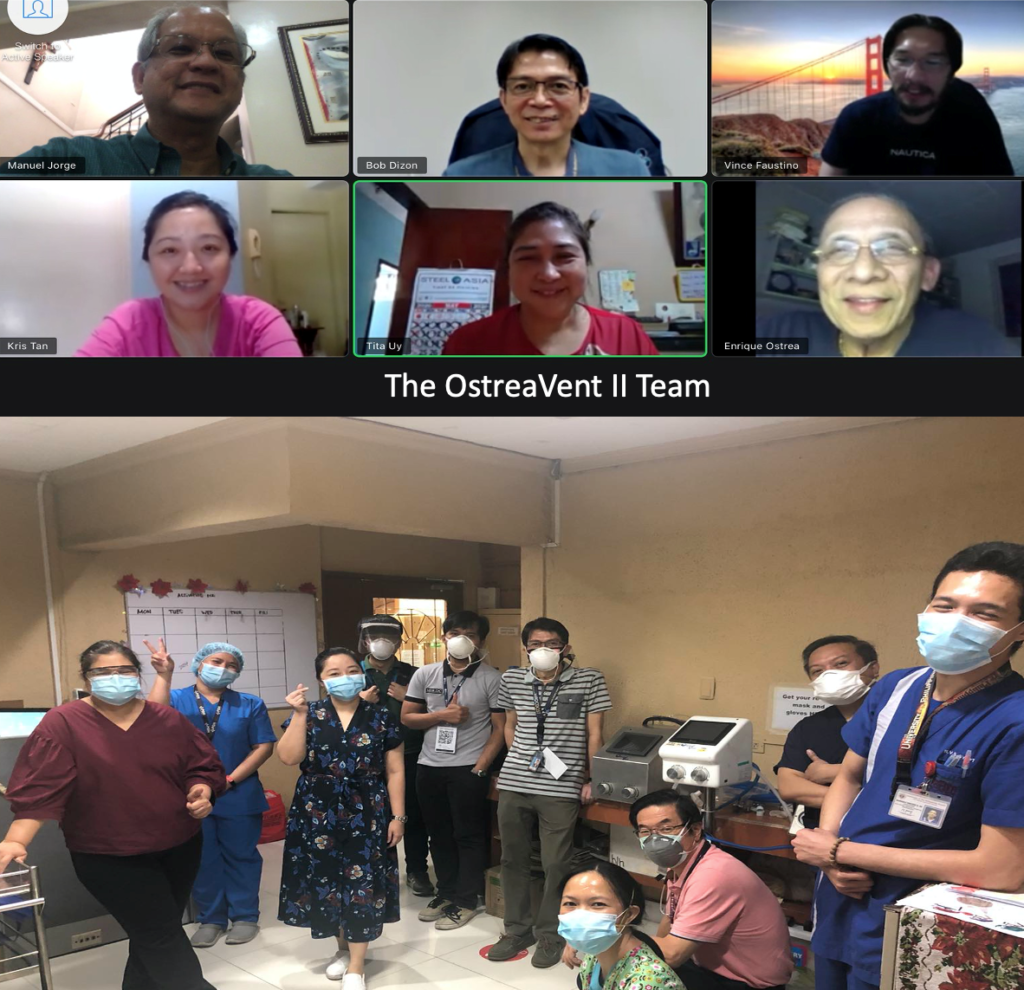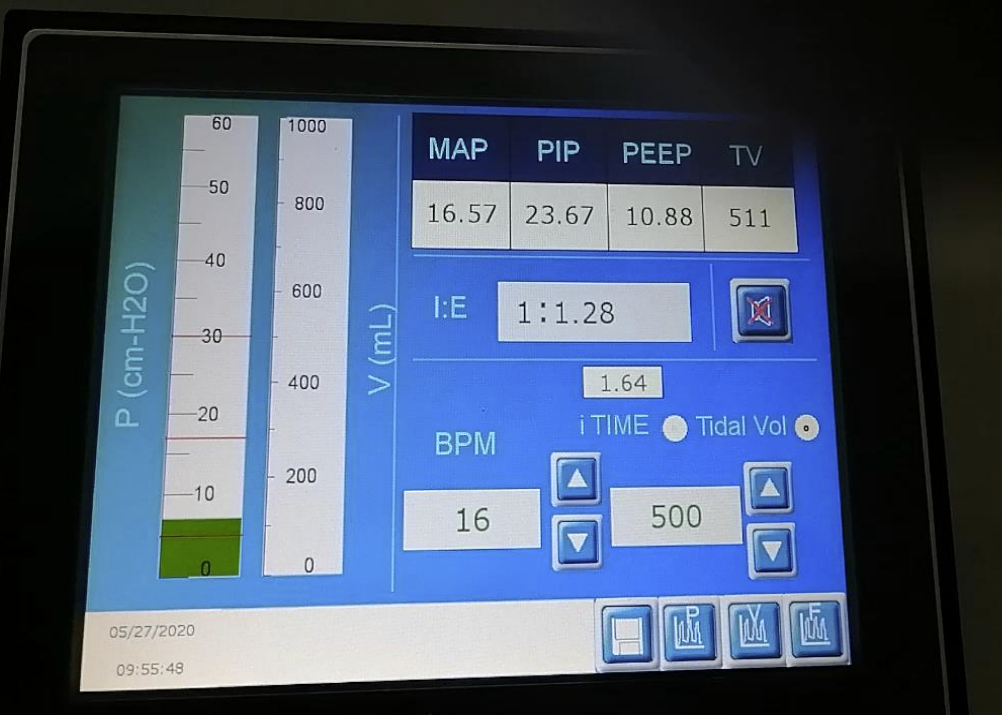 The OstreaVent II is both a pressure or volume limited, time cycled ventilator with Positive End Expiratory Pressure Ventilation (PEEP), Continuous Positive Airway Pressure Ventilation (CPAP) and Biphasic Positive Airways Pressure mode (BiPAP). The normal range of tidal volume (TV) is 100-600 mL, peak pressure (PIP) up to 60 cm H2O and PEEP/CPAP of 0-20 cm H2O. It can operate on 220 to 240 V, 50/60 Hz or battery operated( 12 volts) during power loss or patient transfer. One of the unique features of the OstreaVent II is its ability to monitor the performance of batches of 1500 real time breaths, in Excel format, from its USB port.
Next phase is the government testing of the OstreaVent II for performance, functionality and safety. Then it will proceed to the clinical test of patients needing ventilator support. Thanks for all your prayers and financial support.

Buddy

Enrique M. Ostrea, Jr., M.D.
Professor of Pediatrics, Wayne State University
Neonatologist, Hutzel Women's Hospital
and Children's Hospital of Michigan
Detroit, MI 48201